[Math+Magic
]™ Lite Edition for Mac OS X
MathMagic Lite v9.41 for Mac

(for Mac OS X 10.6 ~ macOS 10.14 Mojave)

Date of Release: April 20, 2018

---
Currently, we do not have a fixed schedule to release 64-bit versions of MathMagic for macOS 10.15 Catalina or 10.16 Big Sur. You may find a Virtual Machine solution that runs on macOS 10.15 to run older macOS or Windows and run the current MathMagic there.
For Virtual Machine(VM) options, please read this page:
Moving 32-bit Mac Apps to Catalina
---
Thank you for choosing MathMagic, the ultimate equation editor on the planet!

MathMagic Lite is a FREE equation editor.
It is a stand-alone application for writing and editing any mathematical expressions and symbols with easy-to-use interface and various powerful features.
MathMagic Lite offers various symbols and templates for elementary ~ high school math and post-secondary math.
MathMagic Lite Edition works well with most word processors like iWork Pages, presentation software like Keynote or PowerPoint, iBooks Author, PhotoShop, Illustrator, and more, via Copy and Paste, Drag and Drop, or Exporting in SVG, PNG, PICT.


This page contains the latest information about MathMagic Lite Edition for Mac OS X.
Please read the Feature Comparison table to see the difference between "MathMagic Lite" and full featured "MathMagic Personal".


MathMagic Lite Edition is for personal use only.
MathMagic Lite & included MathMagic fonts should NOT be used for any commercial purpose.
Equations created with MathMagic Lite are not allowed in any commercial material or public contents.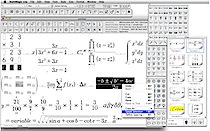 Changed: Minimum Gap to Bar for Define Spacing -> Fractions now takes 0 value to make the Bar touch the Numerator and Denominator boxes.
Changed: Minimum Gap to Bar for Define Spacing -> Fractions now works with Division, RDivision, and Angle Division templates.
Changed: Minimum Gap to Bar for Define Spacing -> Radical now takes 0 value to make the Bar touch to the inside box.
Fixed: Greek symbols lose its Italic font face when entered after characters with User defined font.
Fixed: ltimes, rtimes and a few other symbols were not displayed when entered from the Triangle Symbol palette.
Fixed: UpArrow and DownArrow in the Fence template did not have the correct width when the shape of Arrow head was adjusted.
Fixed: All upper case characters in the pasted math expression or text string were converted to lower case unexpectedly.
Please read Version History for the details.

* System Requirements
Intel Macintosh
Mac OS X 10.6 or newer including 10.13 High Sierra
About 30 MB of hard disk space for a complete installation
* What is MathMagic, or [Math+Magic]™
MathMagic is an Equation editor for all users ranging from novices, students, teachers, higher education, and to the high-end desktop publishers.
It provides you with very easy user interface and yet powerful features in making equations. You can create every imaginable form of mathematical expressions with MathMagic easily and quickly.
MathMagic is available in a few different configurations:
MathMagic Pro Edition for Adobe InDesign™ 2.0 ~ CS6, CC ~ CC2018
MathMagic Prime Edition for large publishers
MathMagic Personal Edition for general uses
MathMagic Lite Edition (Free Equation Editor)


Fully functional Trial versions of MathMagic Personal and Pro Editions are available for download at:
Trial version can be switched to a full version when a License Code is entered into the Authorization dialog. There is no separate installer or application for Trial version. One same regular installer and its installed application works as a trial mode if you do not enter a valid License Code.

MathMagic Lite is Free so no License code required. And no Trial version availabe for MathMagic Lite.

For the full Price list, please visit our online store. For the site licensing or volume order, please contact us at sales@mathmagic.com.
* History of Older Versions
June 2012 - the first MathMagic Lite Edition for Mac OS X released.
[Math+Magic], MathMagic, MathMagic Personal Edition, MathMagic Pro Edition, MathMagic Prime Edition, MathMagic Lite Edition, MathMagic logo, InfoLogic and InfoLogic logo are trademarks or registered trademarks of InfoLogic, Inc.
iBooks Author, iWork, Pages, Keynote, AppleWorks, Mac OS X are trademarks or registered trademarks of Apple Inc. MS Word, PowerPoint, Windows are trademarks or registered trademarks of Microsoft corp. Adobe InDesign, Illustrator, Photoshop, Acrobat are trademarks or registered trademarks of Adobe Systems Inc. QuarkXPress, QuarkXPress XTensions are trademarks or registered trademarks of Quark, Inc.
Other trademarks may be the properties of their respective owners.